Hosted by the Instituto dos Registos et do Notariado de Portugal, the XVII ELRA General Assembly took place in Lisbon on Thursday 23rd May 2013.
It was attended by representatives from 25 ELRA member associations of 20 EU Member States. On this occasion, the Austrian Ministry of Justice, a country interested in our association, also participated. In addition, ELRA had the honor to welcome Professors of Law from the Universities of Maastricht, Coimbra and Madrid and representatives from other Associations, such as the CINDER.
As on previous occasions, the Assembly was divided into two main parts: one devoted to internal matters and another one to EC papers and discussions.
Recent and expected future ELRA activities were discussed. ELRA underlined the promotion of relations with other European Associations such as EULIS, PCC and Eurogeographics, as well as the development of the European Land Registry Network (ELRN) and the CROBECO II project, whose opening conference was held the day before.
The retiring President of ELRA, Mr Wim Louwman, and the Secretary General of CINDER (the International Centre for Registration Law), Mr Nicholas Nogueroles, signed a cooperation agreement between the two organisations.
The next important issue of this Assembly was the election of the New Board of Directors. Mr. Alasdair Lewis (HM Land Registry of England and Wales) was appointed as the new President, Mr. Jorge López (Colegio de Registradores de España) as the Secretary General, Mr. Guido De Latte (Royal Belgian Federation of Mortgage Keepers) as the Treasurer, and Mr. Jacques Vos (Kadaster of Netherlands) and Mr. Mihai Taus (Land Registry Association of Romania) as the two Administrators.
Among other EU papers, the Assembly talked about the Proposal for a Regulation on promoting the free movement of citizens and businesses by simplifying the acceptance of certain public documents in the EU.
Moderated by Ms. Carmen Jerez, Professor of Civil Law University of Madrid, there was also a panel discussion on spatial data and Land Registers in which experts from different areas participated.
In this XVII ELRA General Assembly, the 5th volume of the ELRA Annual Publication was launched. ELRA members from Spain, Bosnia, Netherlands, Poland and Lithuania wrote interesting articles related to land registration for this publication.
To close this XVII Assembly, Mr. Henrik Ungern, representative from the National Land Survey of Finland, explained the functioning of the Land Registry Systems in his country.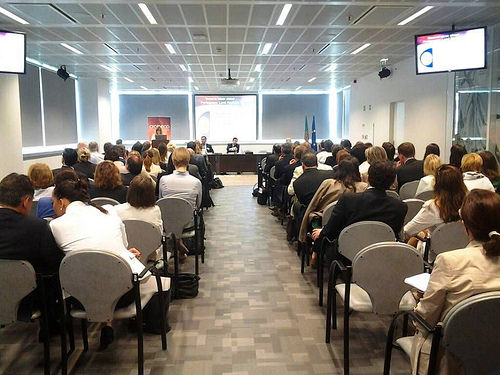 PRESENTATIONS