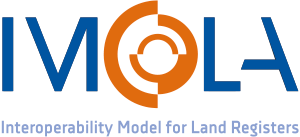 Last News
Kick Off Conference, Videconference, 14th May 2020

Background
 IMOLA vision is an incremental approach emerging on the increased demand for Land Registry information to the registration of foreign documents and judicial decisions, establishing local equivalents for foreign legal rights, to get an efficient implementation of EU Regulations on civil and commercial matters.
This makes new demands on registrars, judges, academics, solicitors, notaries, lawyers, and citizens. They will need to have improved knowledge of foreign property rights, registration systems, and legislation and to provide understandable information through the e-Justice portal.
IMOLA III project is a necessary approach to consolidate the semantic model for assuring Land Registry interconnection  (LRI) and to develop a real and complete Land Registry Information semantic model, in order to get the interoperability of metadata related to the juridical information supplied by ELRD.
Furthermore, it is a transversal action which creates important beneficial synergies to other projects like the implementation of the European Case Law Identifier (ECLI) and the European law identifier (ELI).
This is crucial to make property rights information more accessible and understandable contributing to achieving the objectives in the EU Strategy 2019/2023 for e-Justice.
Aims and Objectives
Consolidate the objectives reached in IMOLA I and II
Improve and extend the ELRD ontology with new pivot terms
Effective implementation of the ELRD at the national level developing a new web services to facilitate the extraction of national information
Develop a centralized platform and new web services facilitating a common ELRD interface to assuring the LRI integration.
Enhance the usability of IMOLA interfaces
Results of the project
A common and shared semantic model to facilitate the implementation of EU Regulations and to consolidate the European single market within the frame of a digital administration.
Transparency and a better understanding of property rights and LR national systems and legal effects.
Standardized and customizable web services adapted to ELRD schema to facilitate the harmonization of LRI
Accessibility to meta data and AI solutions
Tender
For the conclusion of a service contract concerning the semantic and technical realization of the IMOLA III project.
(JUST-JACC-EJU-AG-2019/ 881570)
Disclaimer: "The content of this page represents the views of the author only and is his/her sole responsibility. The European Commission does not accept any responsibility for use that may be made of the information it contains."